Revolutionary Democracy
Vol. VI, No. 1, April 2000
Rahula Sankrityayana
Sketch by Anil Karanjay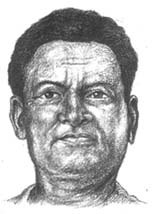 The Assault on the House of Leon Trotsky, David Alfaro Siqueiros
J.V. Stalin and the Theory of Socialist Reproduction, 'Inter'
The Communist Party of China and the 20th Congress of the C.P.S.U., British and Irish Communist Organisation
Public Sector Units: Privatisation or Economic Destruction?, N. Bhattacharyya
The Working Class Movement in the Dhanbad-Durgapur Area, A. Roy
Gender and Property Relations in Uttar Pradesh, Aparna Bhardwaj
The Film 'Water' and the Freedom of Expression, Mazdoor Mukti Sangharsh Samiti
Documents: Rahula Sanskrityayana's Letter to J.V. Stalin
Julius Fucík Remembered, Jan Jelínek
The Poems of Nikola Vaptsarov, C.N. Subramaniam
The Union of Soviet Socialist Republics is the Socialist State of the Workers and Peasants
(From the Constitution of the Soviet Union, 1936)
Editorial: The Power Workers of Uttar Pradesh Show The Way.
The Communal Offensive and the Indian Council of Historical Research, Tanika Sarkar
Global Victory in Seattle: Workers, Students, Activists Defeat WTO, Steve Zeltzer
The War in the Chechen Republic, Proletarskaya Gazeta
Recent Events in Ireland, O'Cuinnegain
Irish Revolutionaries of the 1940s Supported Udham Singh.
Resolutions of the Third Seminar on the Problems of the Revolution in Latin America, July 1999
'My Ambition was to Liquidate Communism', Mikhail Gorbachev
The Forgery of the 'Testament of Varga', Maria Varga
The Peoples' War Group and its Criticism by the 'Concerned Citizens', Rajesh Tyagi
Be Careful! There is a Spy in Your Windows. En Marcha, October 1999
Click here to return to the main menu.