Revolutionary Democracy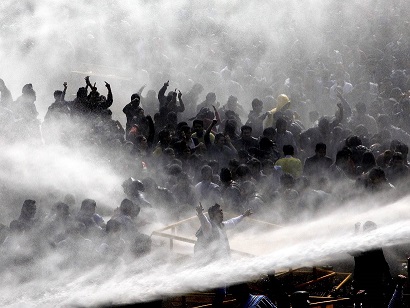 Use of Teargas and Water Cannons Against the Demonstrators Protesting Against Gang-rape, New Delhi, December 2012



Hugo Chavez (1954-2013)




Maruti Developments

A Political Hanging, Nirmalangshu Mukherji

Bal Thackeray, Damodar

Gambling on the Private Sector at the Cost of the Working Class, Gautam Mody

Cash Transfer or Direct Benefits, Dr. N.K. Bhattacharyya

Changing Mode of the Pastoral Economy and the Globalisation of Kutch, Sonal Mehta

Resignation and After, Prasenjit Bose

Two Decades of Neo-Liberalism – Some Reflections, C.N. Subramaniam

On the Death of Hugo Chavez, ICMLPO

Statement of the PCMLV on the death of Commandante Chavez

Obituary: V.B. Cherian, NTUI

Obituary: Adélard Paquin (1919-2013), Antonio Artuso

Inspiring Memories of Homi Daji, Ram Puniyani

National Logistics Cell Destroyed Pakistan Railways, Sher Ali Khan

A Critique of the Economic Programme of the SACP, or the South African Road to Socialism, Rafael Martinez

The Struggle of Gramsci against the Opportunism of Bordiga, Communist Party of Italy


Gramsci and Stalin, Aldo Bernardini


Two Interviews, Aleksandra Kollontai


Record of the Two Meetings of I.V. Stalin and Mao Zedong in Moscow (16th December 1949 and 22nd January 1950)


Note by Suslov, Malenkov, Grigorian and Yudin to Stalin Regarding Discussions with Representatives of the CC CPI in Moscow with Information about Rao, Ghosh, Dange and Punnaiya, and the Handwritten Remarks of I.V. Stalin (8th February 1951)


Statement of the Marxist-Leninist Parties of Latin America, July 2012

No to French Military Intervention in Mali, Communist Party of the Workers of France

Condemn the Despicable Assassination of Chokri Belaid in Tunisia! Toufan

Declaration of the ICMLPO, November, 2012.

On the International Situation, ICMLPO

The Mistakes of Bezhin Lug, Sergei Eisenstein


A Failure and its Reasons, Timofei Rokotov


The One Raising the Banner: Geli Korzhev, G.O.

The One Who Did Politics With His Camera: Sunil Janah, Vineet Tiwai


Views expressed in signed articles are those of the authors and not necessarily of the Editorial Board.



Click here to return to the main menu.